Android watermark apps come in handy if you're looking to sell your images online, publicize them in a forum, etc. Every day, content theft continues to surge exponentially. This is made more evident with social media, where you can see about 5 to 10 creative works (like skits or images) on 5 different pages, with no owner credit or acknowledgment.
Thankfully, things have and are continuing to change, and there have been ways to protect your work/property from online content thieves, thanks to technology. One such way is watermarking. This allows you to put a unique sign on your property, thereby attributing some form of ownership, protection, and helping people easily identify your brand. Below are some of the watermark apps that can help with this:
Best Android Watermark Apps:
First, on our list, this logo adder and text over photo-free app rates 4.7 stars on the Google Play Store, and with over 37,000 downloads, this app takes away the annoying advertisements that come with apps especially when they're free. This means you do not have to endure any boring advertisements while working on your images. However, you might be required to make a voluntary one-time in-app payment of $1.50 after 5x of usage. No worries, this doesn't come with any feature limitations whether before, or after the payment period. This watermark app offers a wide array of features thereby allowing you;
Create templates! Save your previous setup (logo + text) as a template for future images
Change the transparency of your logo, to create watermarksEXIF embedded data!
Upload your own logo to the app (no size restrictions)
Take pictures with the camera
Hi-Res – No resolution downgrade. The app matches your logo to the resolution of your photo or alternatively, save space by opting to save your image in low resolution, your choice really.
Add a protective snap-on X-grid on top of any image with just 1 click
Add your own text + change color
Crop and rename your images
Share directly to social channels
Add multiple logos
Easy access to your auto-saved logos
Choose from a variety of fonts or add your own font
Perfect Alignment > Level your logo or text to the horizon (+0º)
Supports .png .gif and .jpg (logo) files
To place your logo in the image (s), simply drag it where you want, and scale it up or down by using 2 fingers to pinch/zoom. Click on "Save current as template" so you don't need to add your logo next time you use the app.
• Use your fingers to rotate the logo or just click on the "rotate" button. To align and undo rotation, click on the +0º option.
• Use the slider at the bottom of the screen to change the opacity (transparency) of your photo watermark, logo or text. Enjoy!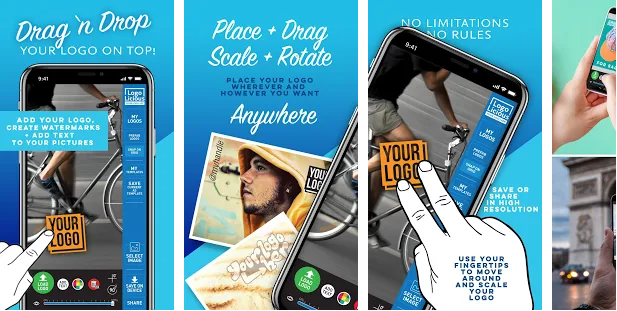 Taking the second spot is this 4.8-star rated app. This app also comes with a number of features that let you;
Automatically tile your custom watermarks across the whole photo.
Brand your photos by digitally signing them
Cross pattern
Access pre-created watermarks, patterns, copyright symbols, fonts, custom text watermarks.
Position your photo perfectly
Use yours or create a new logo
Preview and adjust
Watermark loads of files at once
Save watermark as templates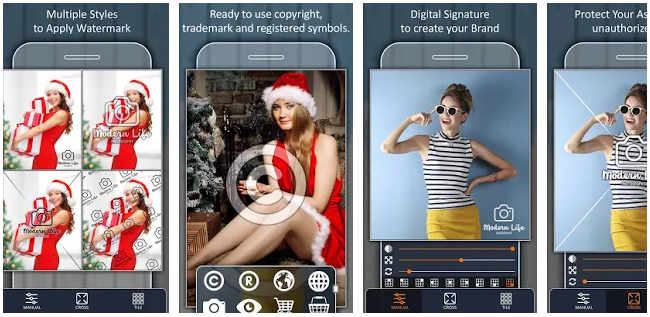 With a 4.7 star rating, this app takes our third spot. It allows you to create and save watermarks also as templates, creates digital stamps for works, cuts the stress of watermarking images one after the other by letting you work on images in bulk/batches at once. Add Watermark On Video; supports MP4 and major format in Videos and Photos, comes with the pre-built pattern, sticker collection, fonts, color, and other effects that you can easily choose from to add flavor to your watermark.
With the help of this app, you can position your watermarks with precision, have access to copyright symbols, get progress notifications even though the app is closed, and share directly on your social media accounts. All these with no loss of quality, the resolution is still the same.
Also Read: Best Wallpapers Apps To Get Perfect High-Resolution Wallpapers For Android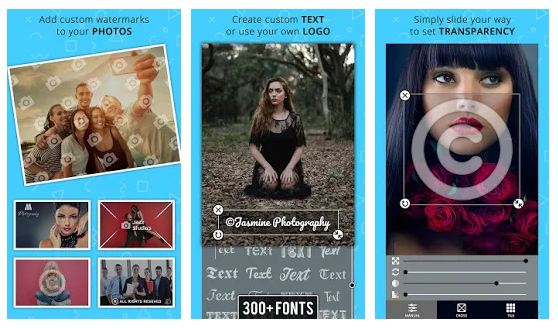 Currently has a 4.3-star rating on Google Play Store. This one allows you to add your logo, or create a new one where you don't have, crop and resize photos and videos to fit different social media platform resolutions, add text to images and videos, add contact details. There has however been a number of complaints about the operation of this watermark application as it is a monthly/annually subscription app. Users believe there should be a pay-per-use option. We can't argue that because really, who wants to pay a monthly subscription for an app they only use once a month?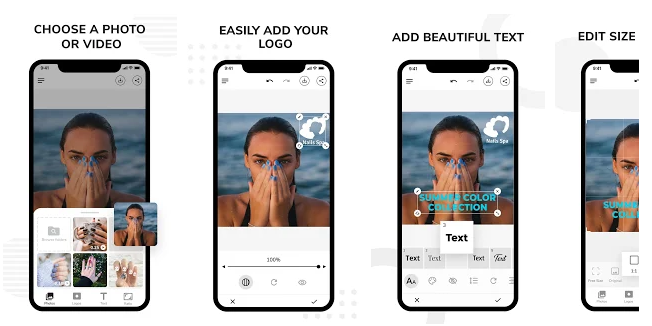 Currently, with a 4.5-star rating on the Google Play Store, this watermark app allows you to take pictures with the camera, access hundreds of built-in text and png stickers as watermark, fonts, color, and other effects in text mode, easily move, rotate, reverse and change the transparency of watermark, quickly share to your social media platforms, and clone and edit watermark.