Mobile gaming has become a huge form of entertainment with massive popularity among gen Zs. Numerous titles have taken the industry by storm with PUBG, CODM, and Fortnite leading the pack.
Many aspiring vloggers have also chosen to take the gaming route playing these popular titles on YouTube and harnessing thousands of fans.
If you're considering forming a career in mobile game streaming, then this post will guide you on how to become a creator and stream your video game sessions so your friends and a new audience can watch.
How to Live Stream Your Gaming Sessions on Android
Before you can stream your live gaming sessions, you will need to have a streaming platform and a designated streaming app installed on your phone.
There are several streaming apps available on the play store to choose from but our favorite is Streamlabs. Streamlabs allows you to stream directly from your phone to any social platform of your choice. It even lets you stream to multiple networks simultaneously. You can use it to stream on platforms like twitch, YouTube, and Facebook.
Steps to Live Stream on Streamlabs
Step 1: Download the Streamlabs app from the Google play store and install it on your android phone.
Step 2: Launch the app and log in with your information. You can choose to log in with Facebook, YouTube, or twitch.
Step 3: Click on the "stream your game" button to begin streaming. If you want to make use of your camera, you can click on "use your camera" to do that. You can also choose the "stream yourself option" if you want to stream IRL.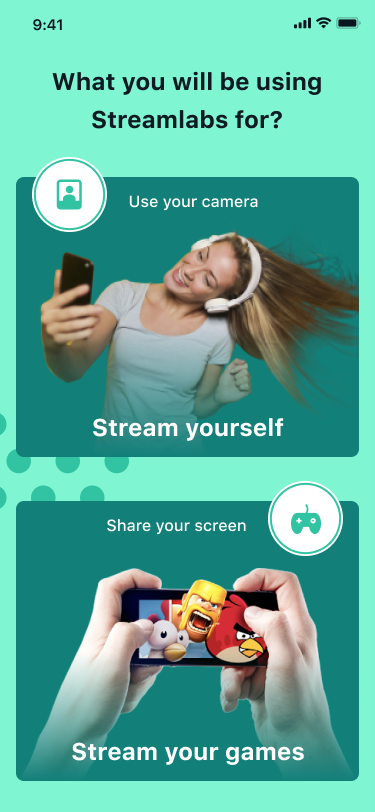 Step 4: Customize your stream based on your preference by using the editor mode. It allows you to add custom images, different widgets, overlay themes, and many more.
Step 5: Click on "go live" when you want to stream and choose the platform you want to stream to and type in a title and description for your broadcast.
Things You Should Know When Live Streaming Your Gaming Session
Before you start your live broadcast ensure that your device is running smoothly. Close all other apps to prevent your phone from lagging.
Also, it is important to remember that you will be sharing your screen with other platforms, so you should take care not to accidentally broadcast sensitive information. For this reason, it is advisable to turn on do not disturb mode or turn off all notifications. You can also choose to broadcast from Wi-Fi.